The digital age demands a strong online presence for businesses to thrive. It's no longer a luxury but a necessity. Developing an influential online presence isn't about putting together a few digital assets; it's a strategic process.
This article is a comprehensive guide to help you build a robust online presence. Whether you're looking for an online reputation management company or trying to go at it on your own – this article is for you.
Understanding the Importance of a Strong Online Presence
An impressive online presence can make or break your business in this fast-paced digital world. It enables businesses to showcase their products or services to a broader audience, communicate directly with customers, and compete on a larger scale with local businesses. Moreover, it gives business owners valuable insights into customer behavior, enabling them to tailor their offerings more accurately and efficiently.
Establishing Your Google My Business Profile
As a starting point, setting up a Google My Business (GMB) profile can significantly boost your online presence. This free tool allows your business information to show up in Google search results, Maps and Google+—making it easier for customers to find you no matter their device. Be sure to complete your profile in detail, including your business description, hours, location, and photos. Reviews customers leave on your Google My Business profile can also help build trust with potential customers.
Think of GMB as your online reputation management service hub and treat it as such.
Online Reputation Management and Google My Business
In the digital age, online reputation can make or break a business. How customers perceive and review your business online has significant implications for your brand's trustworthiness and credibility. Consequently, Online Reputation Management (ORM) has emerged as a critical component of a strong online presence.
ORM is a strategic approach that involves monitoring, identifying, and influencing your business's digital reputation and credibility online. An effective ORM strategy can also provide opportunities to respond to customer feedback, resolve issues promptly, and show customer service excellence in public view.
A crucial platform for effective ORM is Google My Business (GMB). GMB is a free tool for managing how your business appears on Google Search and Maps. You can add your business name, location, hours, and more. But beyond these basic features, GMB also allows customers to leave reviews, giving you an excellent opportunity to manage your online reputation.
Leveraging Google My Business for Online Reputation Management
Encourage Customer Reviews: Encourage customers to leave reviews on your GMB profile. These reviews can be a deciding factor for potential customers researching your business. Many positive reviews can significantly enhance your online reputation, while unattended bad reviews have the opposite impact.
Respond to Reviews: Take the time to respond to both positive and negative reviews. For positive reviews, show your appreciation for the customer's support. For negative reviews, address the issue professionally and constructively. This demonstrates to customers and prospects that you value feedback and are committed to resolving issues.
Use Google Posts: Regularly posting updates, events, or promotions on GMB can show that your business is active and engaging. It's another way to enhance customer interaction and improve your online reputation.
Ensure Accurate Information: Regularly update your business information, such as address, contact details, and operational hours. Accurate and up-to-date information helps build trust with your customers.
Add High-Quality Photos: Photos of your business, products, or team can influence your online reputation. High-quality, professional photos can significantly improve perceptions of your business.
Proactively using online reputation management services via platforms like Google My Business can dramatically enhance your online presence, leading to higher customer trust, improved brand image, and, ultimately, business growth.
Getting your business listings right is only half the battle to manage your online reputation – now comes arguably the most important facet, your website.
Investing in a Professional Website
A professional website serves as the foundation of your online presence. It's your digital storefront, and often the first point of contact potential customers have with your business. In fact, according to the eCommerce Foundation, 88% of consumers will research product information on your website and your competitors' sites before they make a purchase online.
Investing in a professional, well-designed, and user-friendly website is crucial for your business. Here are some key aspects to consider when investing in a professional website:
Website Design:
A clean, modern design can dramatically enhance your online presence. Your website's design should be visually appealing, reflecting your brand's identity and differentiating you from your competition. Remember, first impressions matter a lot online, and a well-designed website can make a lasting impression.
User Experience (UX):
Your website should be easy to navigate. Visitors should be able to find what they're looking for within a few clicks. A positive user experience can improve customer satisfaction and increase the likelihood of converting visitors into customers.
Mobile Responsiveness:
With the increasing use of smartphones, your website must be mobile-friendly. A mobile-responsive website adapts to the screen size of the device on which it's being viewed, ensuring that your website looks great and functions well, whether accessed from a desktop, tablet, or smartphone.
Website Speed:
Page loading speed is another important aspect of a professional website. A slow-loading website can deter potential customers, as today's consumers expect quick, seamless online experiences. Improving website speed can enhance user experience and increase conversion rates.
Search Engine Optimization (SEO):
Your website needs to be found by search engines. A professional website should be optimized for relevant keywords, have quality content, and include meta tags to improve its visibility on search engine result pages (SERPs).
Content:
High-quality, relevant content is a crucial aspect of a professional website. Content helps tell your brand's story, showcase your products or services, and provide value to your customers. Regularly updating your website with valuable content can also improve SEO and keep visitors engaged.
Security:
Ensure your website is secure, especially when handling sensitive customer information. A secure website can build trust with your visitors and protect your business from cyber threats. Consider using HTTPS, which secures the connection between your website and visitors, protecting data integrity and confidentiality.
Investing in a professional website is not an expense but an integral part of your business strategy. A well-structured, aesthetically pleasing, and user-friendly website can enhance your online presence, build customer trust, and drive business growth.
Strong Social Media Profiles Boost Online Reputation
Social media marketing platforms provide an excellent opportunity to build a vibrant online presence. They allow businesses to engage with customers more personally, build brand loyalty, and effectively promote their products or services. Facebook, Twitter, LinkedIn, Instagram, and Pinterest are just a few platforms where you can establish a solid social media presence.
Remember to tailor your content to fit the specific platform and audience, engage with your followers regularly, and promptly respond to their comments and messages. Refer to this blog post for some communication tips for small business leaders.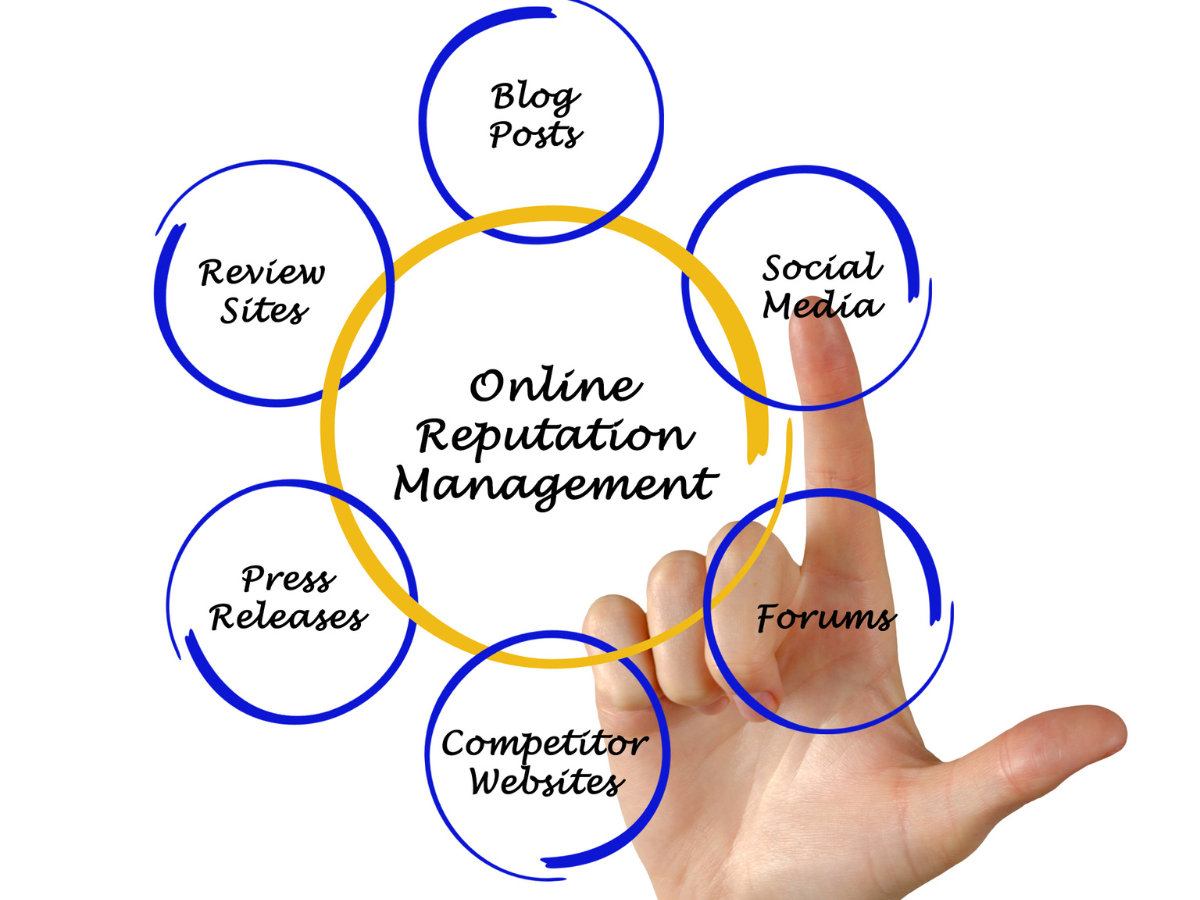 Making the Most of User-Generated Content (UGC)
Imagine having a marketing team that works for free and loves doing it. Well, that's User-Generated Content for you! It's content created by your users – photos, videos, reviews, or even blogs. Encourage your audience to create content around your product or service. It's authentic, it's genuine, and it's golden. Create campaigns, contests, or hashtags to get the UGC ball rolling. When your customers are also your fans, their content can be more valuable than gold.
Positive UGC can help you build a strong foundation when looking at your online reputation management strategy.
Creating High-Quality, Engaging Content
High-quality, engaging content is the lifeblood of your online presence. It's one of the primary reasons why people use the internet. They're searching for information, answers to questions, solutions to problems, positive content, or entertaining and enlightening material. As a business owner, producing this type of content can help you connect with and engage your audience, increasing brand awareness and customer loyalty.
If you're selling a product or service – User-Generated content displaying the positive impact of your offering does absolute wonders when it comes to bringing prospective buyers over the edge. It's like two positive reviews in one.
Platforms and Tools for Content Creation
In this digital age, various platforms and tools can make content creation easier, more efficient, and more effective. Here's a list of a few that you might find useful:
Remember, while these tools can significantly aid your content creation process, the quality of your content ultimately depends on the value it provides to your audience. Always prioritize delivering relevant and engaging content over producing large quantities.
Incorporating Video Content and Live Streaming
So, you're scrolling through social media, and what stops you in your tracks? Most likely, it's a video. That's because humans are visual creatures. We love stories and colors. That's why video content and live streaming are taking over the online world like wildfire. It's the digital equivalent of being on stage, with your audience hanging on to your every word. YouTube, Facebook, Instagram – these platforms are the stage. The possibilities are endless, from how-tos and unboxings to webinars and live Q&A sessions!
And guess what? You don't need a Hollywood budget. Your smartphone camera and genuine passion are your tickets to the show. Lights, camera, action!
What better way to give potential customers an inside look at your brand, values, and offers other than a direct live video on IG, Tiktok, or Facebook?
Utilizing Email Marketing to Stay Connected
Let's talk about something that's been around since the dawn of the internet but still packs a punch – Email Marketing. I know it doesn't sound as flashy as "influencer marketing" or "live streaming," but hear me out. This old dog's got new tricks! Email marketing is like that cozy coffee shop where everyone knows your name. It's a way to have a direct, personal conversation with your customers.
How cool is that? Now, don't just spam them with ads. Nope! Provide value. Newsletters, promotions, events – keep them in the loop. Segment your email list to tailor your message to specific groups; picking the perfect spice for a dish is like picking the perfect spice.
Sweet tools like Mailchimp and Constant Contact can be your sous-chefs in this endeavor.
Conquering Your Neighborhood with Local SEO and Online Reputation Management
You know the saying, "There's no place like home"? Well, let's apply that to your online presence. Local SEO is like your neighborhood superhero, saving the day when locals search for your services. But wait, let's not forget the trusty sidekick – Online Reputation Management. These two, when paired together, are an unbeatable combo.
Local SEO, here to say Hi.
Let's break it down. First, you've got Local SEO. It's all about making sure your neighbors find you when they're hunting for something you offer. And no, they're not flicking through a phone book – they're asking Google. You don't need to be a worldwide sensation right off the bat. Sometimes, the treasures are in your backyard. Local SEO is all about becoming a big fish in a small pond.
The internet's massive but local SEO allows you to say "Howdy neighbor!" to the people in your area. Use local keywords, optimize for voice search (because everyone's asking Siri and Alexa these days), and get listed in local directories like Yelp and Bing Places. So, if you're a pizzeria in Brooklyn, you want folks craving a slice to find you when they type "best pizza in Brooklyn." Be the local hero!
Optimize with Local Listings
Optimize your site with local keywords, get on Google My Business, and don't forget those local listings on other review sites, like Yelp and TripAdvisor.
Now, enter the sidekick – Online Reputation Management. Your neighbor John found you on Google, but he's now squinting at his screen reading all your reviews. Oh yes, reviews! They're the lifeblood of online reputation management companies. A shiny 5-star review can make you look like the Rockstar next door. But a 1-star review? Yikes. This is where you step in, my friend. Reply to those reviews, thank John for his kind words, and address that 1-star review with grace and commitment to doing better.
Your Digital Door
Local SEO gets them to your digital door, and Online Reputation Management makes them want to ring the bell (and not run away).
It's like peanut butter and jelly, mac and cheese, or any other iconic duo you can think of. Nail this combo, and you'll be the talk of the town in no time!
What do Online Reputation Management Companies Do?
Managing your brand's online reputation can be complex and time-consuming, especially as your business grows and the digital landscape evolves. That's where professional online reputation management (ORM) services come into play. These specialized services provide expert assistance in monitoring, protecting, and enhancing your digital reputation.
ORM, how does it benefit your business
Let's explore how online reputation management services can benefit your business:
1. Online Reputation Monitoring: ORM services employ advanced tools and strategies to monitor various online platforms, including search engines, social media networks, review sites, and news outlets. They keep a vigilant eye on online mentions of your brand, products, or services, ensuring you're aware of both positive and negative sentiments expressed by customers, influencers, and the general public.
2. Proactive Online Reputation Protection: ORM services monitor your online presence and take proactive steps to protect your brand's reputation. They can help identify potential risks and implement strategies to mitigate negative reviews, damaging content, or online attacks. By addressing issues swiftly and strategically, ORM services aim to minimize the impact on your brand's perception and ensure a positive digital image.
3. Crisis Management and Damage Control: In the event of a reputation crisis, ORM services are equipped to handle the situation with expertise and finesse. They develop crisis management plans, providing guidance on responding, engaging, and communicating effectively during challenging times. By promptly addressing negative feedback and resolving issues, they strive to restore trust and maintain your brand's credibility.
4. Online Review Management: Online reviews are crucial in shaping public perception of your business. ORM services can assist in managing online reviews across platforms like Google My Business, Yelp, TripAdvisor, and more. They help you gather and respond to customer reviews, encouraging positive feedback while addressing negative experiences with professionalism and care. This approach to managing customer reviews showcases your commitment to customer satisfaction and strengthens your brand's reputation.
5. Content Optimization and Suppression: ORM services work on optimizing your digital content to ensure it aligns with your brand values and resonates with your target audience. They may also employ techniques to suppress harmful or misleading content appearing in search engine results, pushing it down in search rankings in favor of more positive and accurate information about your business.
6. Brand Reputation Enhancement: Building a strong online reputation isn't just about mitigating negatives but also enhancing positives. ORM services can develop strategies to highlight your brand's strengths, showcase success stories, and promote positive news and content. By amplifying the positive aspects of your business, they help shape a favorable image in the digital realm.
7. Ongoing Monitoring and Reporting: ORM services provide regular reports and insights on the state of your online reputation. They offer analytics, tracking key metrics, and monitoring trends to assess the effectiveness of their strategies. These reports enable you to stay informed and make data-driven decisions to improve your online reputation and presence continuously.
When partnering with an online reputation manager, you gain access to a team of experts who understand the intricacies of maintaining a positive digital image.
It does not just review management… their knowledge, tools, and resources allow you to focus on running your business while knowing that your online reputation is in capable hands.
So, where do I Start?
Building a strong online presence is a continuous, strategic process that requires time and effort. However, the rewards of increased visibility, customer engagement, and business growth make it worthwhile.
Whether establishing your Google My Business profile, investing in a professional website, or maintaining vibrant social media profiles, each step takes you closer to developing a substantial online presence and positive online reputation.
If you need help getting started or managing your existing online presence – we're happy to help.
Book a free consultation with us and learn more about how we help clients with our Online reputation management services.